Bert 'Ginger' Lowman was a 19 year old Stoker mechanic on the Glowworm. He was knocked out and badly injured during the fighting. He now lives in retirement in Havant. He is an accomplished photographer. The Glowworm's crest on the first page of this website is a photo of the one that he has had specially made and proudly displays on his living room wall. Bert takes up the story on the morning of 8th April 1940:

'At a quarter to eight the alarm bells went for action stations. I was supposed to be on watch at eight o'clock but once you go into action you stay where you are. I went to the Petty Officer's Mess as an ammunition supplier, where the number two gun support was situated. It was those 15 minutes that saved my life because I know my boiler room got blown out of the ship. If I had been on watch at the time I wouldn't have been here now. I often think of the poor devil that was down where I should have been.
A shell exploded in the Petty Officers' Mess but luckily it exploded on the other side of the gun support. The concussion knocked me out. When I came to, I found that the back of my left hand was gone and I had shrapnel in my left arm and leg. The floor of the Petty Officers' Mess was covered in blood. It looked like a butcher's shop. I felt the ship listing over. She was going down. I began sliding down with it. I managed to crawl to the other side and up on deck. I remember seeing one of our stokers running along by the lifebelt lockers. He didn't seem to be injured. I didn't know what happened to him but he didn't get picked up.
Just as I got in the water she heaved right over and I got caught up in ropes and wires underwater. I thought to myself that I've had it now. I struggled and struggled and all of a sudden my head popped out of the water. I could see she was about to go down so I swam as hard as I could to get away from her as I didn't want to get sucked down. I could feel myself being drawn back. Eventually I managed to get away from her. I was swimming with one leg and one arm heading towards the Hipper. I was one of the last to leave the Glowworm.
I was lucky that I didn't swallow any oil when I was in the water. There were about three or four inches of oil on the surface of the sea. I know a lot of chaps swallowed it. But as my mouth and nose became blocked with it, I put my head under water below the layer of oil and cleared it. I kept doing this until I got picked up. The Germans put a rope over the side with a loop in it. At first I grabbed it with my good arm but half way up I didn't have enough strength to hang on, so I let go and went back into the water. They put it down again. So this time I put my right arm through the loop and I tucked it under my left armpit. As they pulled me up like that, I could feel my arm coming out from under my armpit. I thought that I would let go again before they could get hold of me. Just at the last minute as I began to let go I could feel hands on me and blacked out.
The next thing I remember I woke up in a bunk in the German sickbay and there were a couple of German sailors rubbing me down with towels getting all of the oil off of me. They congratulated us on a good fight. I didn't realise we had rammed the Hipper until the other chaps told me later on. We must have injured a lot of them in the battle as I looked to another part of the sickbay which was full of German sailors.
Somebody told me that during the action Captain Roope's dog was sitting between his legs and was killed by shrapnel but he wasn't touched.
The next morning I was fast asleep when all of a sudden their guns started firing, which were right outside the sickbay. One of the stewards came in who could speak perfect English. I asked him what was going on. He told me not to worry and that one of our ships had been sighted but it wouldn't give them any trouble. I asked him if he knew which ship? He replied that it was the Renown. On hearing this I waited for the whistle of the shells to come over as I knew that the Renown's 15 inch guns had a longer range than the Hipper's. But the Hipper managed to escape in the bad weather conditions.
Back at home my sister was listening to Lord Haw Haw who announced that I was one of the survivors of the Glowworm and she went rushing around to tell my Mum and Dad who thought I was dead as they had heard that the Glowworm had sunk with all hands.
As a POW I was separated from the other survivors and spent I lot of time at Stalag 13. In Poland. Most of the chaps in there were from the army. I mucked in with a survivor from the armed merchant cruiser the Rawalpindi. We kept ourselves busy helping the officers to escape. The Germans didn't allow them out of the camp to work, so we used to swap clothes with them. Quite a few officers escaped this way. On one occasion three of our Mosquito fighters flew over the compound. The guard in the watch tower, although he wasn't supposed to, fired at them. One of them broke off and flew straight at the tower. As if to say to the guard 'so you want to play do you?' The Mosquito pilot aimed and fired his guns killing the guard so that all the bullets landed outside the compound away from us.
Towards the end of the War we were woken up one night by the Germans in a terrible panic. We were told to move there and then. When we asked why, they replied "Russkies!" It appeared that the Russians weren't very far from our camp. We said we wouldn't leave without our large supply of Red Cross parcels. We managed to find some carts which we loaded up with them. I was glad we did as the parcels kept us alive in the following march into Germany during which many of us died.
After the War I retired from the Navy with the injuries I got on the Glowworm. But I still managed to keep fit by joining a cycling club for many years'.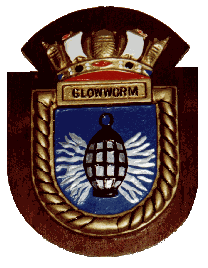 Above: The hand made Glowworm Crest that hangs on Bert's living room wall.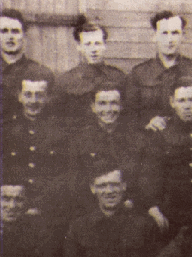 Above: Bert (back row centre) pictured in Stalag 13 as a prisoner of war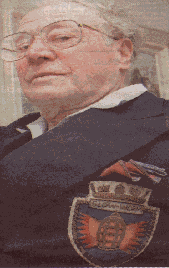 Above: Bert today with his Glowworm blazer.